Does Progressive Have Good Customer Service?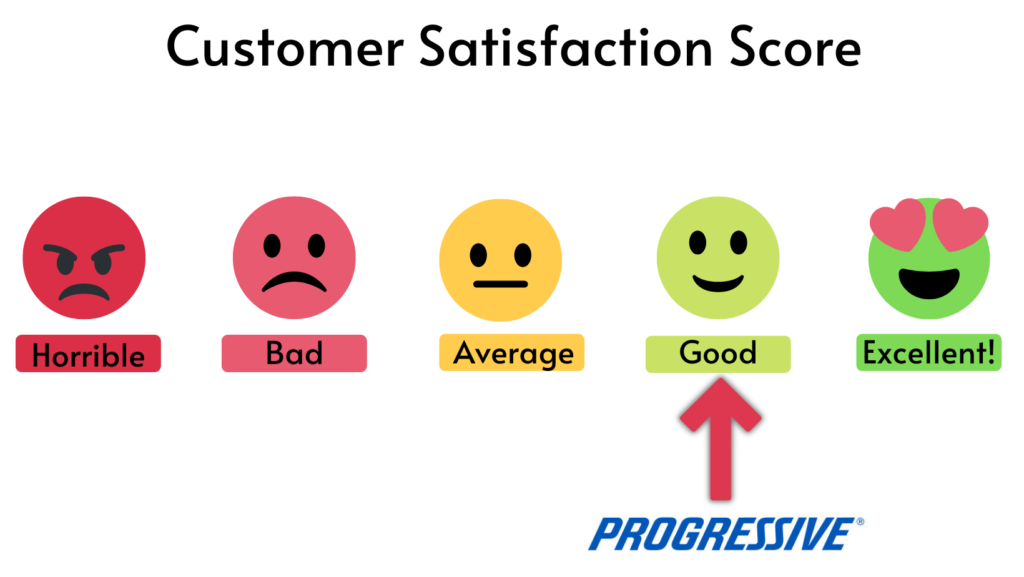 Heritage has rated Progressive as "Good" when it comes to their overall customer satisfaction. Below, we break down the 6 reasons why they scored so well.
Progressive's Customer Service
Customer service is a huge deal when it comes to customer satisfaction.
Does Progressive have good customer service? Yes, their customer service is above par when compared to the rest of the insurance industry.
We say this for many reasons. They are available 24/7/365. This means even when you can't get a hold of your local insurance broker, you can always get a hold of Progressive. Christmas day and you need to add your new vehicle that Santa brought you? You can call Progressive anytime and they'll help you add it! 
Saturday night and you had a fender bender and need to file a claim? Progressive will be there to help you with that.  
In addition to being available 24/7, Progressive insurance also provides their clients with a website and app portal. With your account you can always access your policy and even make changes on your policy, without ever speaking with anyone.  
Progressive has made the customer experience about as easy & pain-free as any other insurance company out there.
For that reason, we give them a very solid 9/10 for customer service.
Progressive's Claims
Claims is always a "hot topic" to discuss. No matter how great an insurance company's track record on claims is, you'll always find someone who had a bad experience. Unfortunately, there is no way around this, its going to happen from time to time.  
As we look at giving Progressive Insurance a score on their claims service, we look at their service as a whole, and not a case by case basis.  
Overall, Progressive has a solid reputation for claims service. We say this for the following reasons: 
24/7 claims reporting

 

Access to claims details on your app or online, 24/7

 

Quick response to claims

 
Although not everyone's claim will run smoothly, overall, Progressive has demonstrated to us over the past decade that they are a reliable insurance company when it comes to paying out claims.  
We give them a solid 8/10 for claims handling. 
Progressive's Financial Stability/Rating
Progressive financial rating from A.M. Best is A+ Superior. This is the highest rating available, giving Progressive a 10/10. 
Price
As always, price is not everything. In fact, it's the 3 or 4th most important thing, definitely not the first. However, everyone is always looking to save money, so it is important to discuss.  
Progressive Insurance has some of the most consistent insurance rates, compared to other insurance companies (being consistent doesn't necessarily always mean the cheapest.) Rarely will you see huge increases (or decreases) in your renewal policy premium (unless you've had bad accidents and tickets). This stability is something that is appreciated by Progressive clients as they know what they can expect come renewal time.  
Progressive also consistently has some of the best rates in the industry. Of course, each person and situation is different, but for the average person, Progressive seems to always seems to be in the top 3 in terms of best price. This is especially true with their auto insurance policies and also their "toys". Things like trailers, atv's, side-by-sides and boats.  
Where Progressive has struggled recently with pricing is on their home policies. Progressive home insurance policies are rather high right now. High prices on the home product have been an issue for about 2 years now.  They promise that will change with some time, but we'll have to see.  
Because of the home pricing issues, Progressive's score on price is a 7/10. 
What discounts are offered
Progressive insurance offers many discounts which can help you find the best premiums possible. Below is a list of discounts they offer.  
Five year accident & claim free

 

Homeowner

 

Multi-car

 

Paperless

 

AAA membership

 

Multi-policy

 

Paid in full

 

Automatic Payments

 

Distant student

 

Good student

 
Make sure you contact Progressive, or your local insurance broker, to make sure you have all the discounts available to you. In most cases, Progressive Insurance will not automatically apply these discounts and you have to make sure you ask about them.  
Getting all the correct discounts applied can save you an additional 10% to 20% on all your insurance policies.  
Although they offer a lot of discounts, they don't offer any "out of the box" type discounts that make them stand out. Because of this, their score on discounts is 6/10.
Products offered
Progressive has a wide variety of insurance products they offer. You can essentially insure everything you need to with Progressive insurance.  
Auto, home, renters, condo, RV, trailer, motorcycle, boat, umbrella, rental homes and they even insure some businesses.  
This is a plus when it comes to ease of doing business and having all of your insurance policies together in one central place. It also helps with the price of all your insurance policies as you are able to bundle and save money with the multi-policy discount.  
With all of their insurance products offered, we give them a 9/10. 
You can see that overall, Progressive is a very solid insurance company. At Heritage, we place many of our clients with Progressive insurance and do so with full confidence that Progressive will take care of them.
Pros & Cons of Progressive Insurance
Pros
✔ Good customer service 
✔ Many products 
✔ Good claims process 
✔ Steady rates 
Cons
❌ Bad rates on homeowners insurance 
❌ No unique discounts
Yes, Progressive has the best financial rating, an A+ Superior rating from A.M. Best. They are a very solid business and should not run into issues with paying out on claims. 
Overall, yes. There are always going to be cases where clients run into problems. However, overall, they seem to pay out well on claims and usually do so very quickly. The majority of Heritage clients are happy with their Progressive policies and the claims experience. 
Progressive direct means you do not have a local agent. If you buy a policy from Progressive direct then you will only have the ability to call them on the phone or go online to access your policy. For many people, this is okay and what they prefer. However, if you prefer to work with a local broker, who can educate and guide you and also be your advocate, you do not want to go with Progressive direct. 
You can buy the same Progressive policy, but from a local agent, and get all the same great benefits of Progressive, plus a broker who can help you as well. 
This is a very difficult question to answer. It isn't as black and white as one would think. Each customer has a different experience. 
However, from our prospective, Progressive is one of the best insurance companies when it comes to customer service. Most all of our clients who are insured with Progressive are very happy with their customer service. 
Progressive does have local agents. They also have agents standing by 24/7 to take your call and assist you with all your insurance needs. The benefit of using a local agent is you get the best of both worlds. 
An agent who can help, educate and advocate for you.
Progressive, who is there 24/7 should your agent not be around.