Umbrella Insurance Gives Protection You Need
There are literally thousands of ways you can be found negligent or liable for someone else's bodily injury or death, would you have enough insurance to protect your assets?
Umbrella insurance is an insurance policy that provides an additional limit of liability over and above your liability limits that are already on your homeowners and auto insurance policies.
Life can be unpredictable and accidents will always happen. This is where umbrella insurance comes into play and provides you with additional coverage that goes above and beyond to protect your assets.
Umbrella Insurance Example Scenario
Real life examples and stories help us better understand what could go wrong and how an umbrella insurance policy can help.
A 28-year-old engineer was hanging out at his friends house on a lazy Sunday afternoon. The friends decided to go swimming. The 28-year-old dove into a friend's above ground swimming pool, struck his head on the bottom and, as a result, became a quadriplegic.
What a horrible accident!
The 28-year-old sued both his friend (the homeowner) and the pool manufacturer. The court found the homeowner to be 60 percent responsible and the pool manufacturer to be 40 percent responsible, and awarded $10,000,000.  
This is where an umbrella policy can come into play and help protect your financial life. Without it, this type of lawsuit with financially devastate you.  
More examples...
Your dog bites a neighbors child
Your child is babysitting and because of their negligence, the kids are injured
Someone drinks too much at your party, drives away drunk and kills someone
You talk bad about someone online and are sued for defamation
Someone trips and falls on your wood deck and suffers major medical injuries
How much does Umbrella insurance cost?
From the above example, it's apparent that everyone needs an umbrella policy. But how much does an umbrella policy cost?
Umbrella policies are extremely affordable and can fit into almost anyone's budget.
From the image below, you can see exactly what someone with 3 cars and 2 drivers pays for an umbrella policy.
$1,000,000 in coverage costs $718 a year. That's including uninsured/underinsured coverage.
For every additional vehicle and driver you have, the price will increase. The price of an umbrella policy will also increase based on every property you own.
Overall, for the additional liability coverage you get from an umbrella policy, it is well worth the money!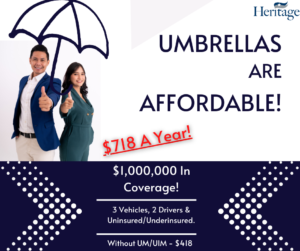 It only takes one accident to potentially bankrupt yourself
If you don't have enough coverage, and in a world where medical expenses are sky rocketing, it only make sense to think about purchasing Umbrella insurance.
Keep in mind that most insurance carriers require that you have at least your auto insurance policy with them in order to qualify for their umbrella.
Stand alone umbrella policies are available also for special situations.
Umbrella policies are the most worthwhile insurance policies you can buy! We recommend that every person own an umbrella policy. 
Think about it this way: you pay around $30 a month, to have and extra $1,000,000 in liability coverage. The price you pay for the value you get is well worth it!
Think of an umbrella policy as an extension of your personal auto and home insurance policies. 
In other words, an umbrella policy will cover what your normal auto and home insurance cover (in regards to liability). 
So if your car insurance covers a certain accident, but your car insurance policy doesn't have enough liability coverage, your umbrella policy will kick in and help cover the rest. 
*Note: as with all things insurance related, each case, company and policy is different. Be sure to read your policy to know exactly what is covered. 
This depends on a number of different factors, which we'll discuss below. 
An umbrella policy, for someone that has 3 vehicles and one home, costs $719 a year. This includes uninsured/underinsured coverage as well (not all umbrellas come standard with uninsured/underinsured). 
The price of the umbrella will depend on a few things
How many vehicles you own
How many properties you own
How many drivers are in the household
Driving records
If you have a pool
These are the main factors that will affect the price of your umbrella policy. 
Yes, everyone needs an umbrella policy. The good news is they are very affordable. 
You may think it's not necessary to have one, because you don't have lots of assets. Everyone has enough assets (including their job and paycheck) to make an umbrella policy worthwhile. 
The less assets you have, the less expensive your umbrella policy will be. 
Yes, you can buy umbrella insurance separate from your auto and home insurance company. 
However, that is generally something we don't recommend. As with all other insurance, it's best (for coverage and price) to package all of your policies in one spot, with one insurance company. 
There will be circumstances where this is not possible. In those cases, there are options where you can buy an umbrella insurance policy separately from your other insurance. 
Umbrella insurance will cover those things that your auto and home insurance will cover. If you're sued for something that your homeowners insurance will cover, then your umbrella policy will step in and cover the same thing. 
If you're being sued for something that your car insurance covers, then your umbrella policy would kick in and cover those same things. 
An umbrella policy is just an extension of your personal auto and home insurance policies.