Why is auto insurance so expensive for 17-year-olds 
Car insurance companies don't make numbers up out of thin air. They have data that drives all their pricing decisions. It's no secret that young 17-year-old females get into accidents at a very frequent rate.
Look at the data:
Sixteen- to 19-year-olds represent 3.5% of licensed drivers, but account for 8.9% of drivers in all crashes and 6.0% of drivers in fatal crashes (source – nsc Injury facts) 
Sixteen to 19-year-olds simply get in more accidents, costing the insurance company more money and therefore causing insurance companies to charge more for 17-year-old drivers.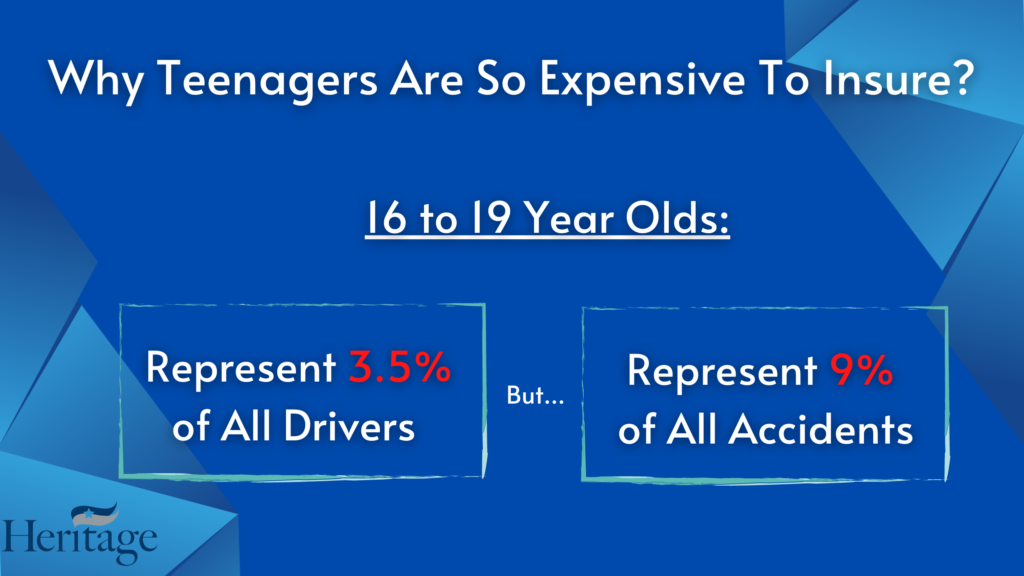 17-Year-Olds Need To Be On Their Parents Policy
Not only does it save you money on your car insurance to list your 17-year-old female on their parents car insurance policy, but it is actually a requirement of most car insurance companies.
Most car insurance companies require you to be listed on the same car insurance policy if:
Your parents own your vehicle (title in their name)
You live in the same home (and are licensed)
You allow others to drive your car occasionally (once a month or more)
Years ago, many people tried to save money on their car insurance by taking out a separate policy for their young drivers. Many times, doing so would save them money. This is no longer the case. In almost every scenario, it does not save you money and it has the possibility of creating coverage issues and claims being denied. The best and safest way to insure your young driver is by adding them to their parents policy.
Don't Sacrifice Coverage For Cheap Car Insurance
It's tempting to try to save money by lowering your auto insurance coverage. There are also many insurance agents that will suggest you do so.
DON'T DO IT!
Don't mistake cheap for the kind of coverage you want. You're bombarded by these car insurance commercials all day long "save 15% or more on your car insurance", "Only pay for what you need", "You could save 100's on your car insurance" and the list goes on an one. Don't let the lure of saving money in the short term, cost you big time money in the long term.
If you look at the data, 17-year-old females are very likely to get into accident.  This means you need to be prepared with the correct coverage. Don't' worry so much about coverage for the car (since you should buy an older, not so expensive vehicle anyways), worry about your liability limit. This is what can come back and bite you, should you not have enough coverage.
We recommend liability limits on your car insurance of $250,000/500,000 with a $1 million umbrella. 
Which Car Is Best For a 17-year-old To Insure? 
When it comes to finding the best insurance for a 17-year-old, the car you select can make a huge difference. Unless you enjoy spending lots of money on car insurance, you should follow these steps.
Purchase an older car. Older cars will naturally be cheaper to insure. A 17-year-old probably doesn't need to be driving a brand new Dodge Charger. At the end of the day, they will probably just get in an accident in it anyways! The benefit of buying an older car for your 17-year-old is that you wont have to put "full coverage" on the vehicle, this will save you money.
Don't buy a sports car. Sports cars = fast driving. Fast driving + a 17-year-old driver = accidents. This is clear to see. Insurance companies have the data to back that up and will automatically charge more for a 17-year-old that drives a sports car.  
Purchase a truck or a larger SUV. Larger trucks and SUV's generally tend to be cheaper for auto insurance. As a parent, it probably makes you feel safer that your 17-year-old daughter is in a larger vehicle. Purchasing an older, larger truck or SUV will save you money on your 17-year-old female's insurance.  
Cheapest Car Insurance Companies for 17-Year-Old Drivers 
It's difficult to pin point which car insurance company will offer the best rates for a 17-year-old female. There are 100's of price points when it comes to determining your auto insurance rate. The best way to find the cheapest car insurance for a 17 year old is to call a broker and allow them to find the best policy for you!
How to save on car insurance as a 17-year-old
Check Insurance Prices Before You Buy The Car
Know what you're getting yourself into before it's too late. Call your insurance company PRIOR to purchasing a vehicle for your 17-year-old and have them run some numbers for you. This lets you know what you're getting yourself into. Rather than finding out that the car you just purchased is going to cost you an arm and a leg. No one wants to return a vehicle after they already purchased it, especially because the car insurance was too expensive.
Get Good Grades 
Most every car insurance company still offers a discount for having good grades. Most auto insurance companies just want to see a GPA of 3.0 or higher. If you can do this, you will see significant savings on your car insurance premium for your 17-year-old female driver.
Pay In Full or EFT 
This is good advice for everyone looking to save money on their car insurance, just not for 17-year-old females. Most every insurance company will offer decently sized discounts on your car insurance when you pay in full or pay automatically using EFT.
Use Insurance Carrier Telematics 
Progressive offers snapshot, Allstate offers Drivewise, Farmers uses FairMile, Liberty Mutual uses RightTrack and many more car insurance companies have their own version of "Telematics". This means you plug something into your vehicle or download an app that will track you and your driving habits. After the trial period or monitoring your habits is over, they will give you a discount based on how well you performed each time you drove your vehicle. Telematics will generally monitor a few things:
How much you drive
Time of day you drive
How fast you accelerate
How fast you break
If you are a good driver (doesn't everyone think they're a good driver) then you should consider using carrier telematics.
Defensive Driver Course 
Taking a drivers course will usually get you a discount with your auto insurance company. Not only that, it will teach your 17-year-old how to be a better driver, who doesn't want that?
Don't File Lots Of Claims 
Filing a lot of claims on your car insurance policy is never a good thing. We've talked about it at length in other places, you can check it out here. Filing lots of unnecessary and small claims will only make your car insurance premiums increase. Especially if you are a young 17-year-old female.
Use A Broker 
As always, we recommend you use an insurance broker when trying to find the best and cheapest car insurance for a 17-year-old female. Brokers have options and aren't bound by any one insurance company to sell you a policy. They can look at options and then offer the best solution to you. The best thing is, insurance brokers don't cost more money to use.